Unparalleled Experience in the Damp Trade Industry
We have invested a huge amount of time in researching damp related problems and this has enabled us to offer you all the newest products, plus we have unparalleled experience in this industry. Best of all, working with us is easy. We provide a reliable, safe, professional and cost effective service that has proven results in all damp associated problems such as rising damp , woodworm and penetrating damp. Our workforce is all UK trained and fully qualified to undertake any damp proofing works so you really are in safe hands with us, and that's a good thing.





Damp in Cyprus
This is a real problem and our customers love the fact that we provide the highest standards of service and feel safe in the knowledge that any damp proofing and timber remedial works will be carried out efficiently and will meet, if not exceed, the industry standards. Within Cyprus we do not know of any other company offering this level of personalized service. Our business is committed to providing the very highest levels of customer service and satisfaction. We are not just here to save your property, we are here to help you save money as well.
Our specialists will give you a fair and honest assessment of your damp problems and a quote to match. Our experts will inform you if your damp problems are caused by structural defects or actual rising damp, penetrating damp, condensation or wet / dry rot. We will advise you of the best course of action whether it be damp proofing treatment, timber treatment or structural repair etc.
Dryzone damp-proofing cream was launched in 2000 and has revolutionised the treatment of rising damp. The patented Dryzone cream is the best-selling rising damp treatment in the UK market and it is set to have the same impact here in Cyprus. Also our system has many advantages over traditional chemical damp-proof methods and a list of these advantages can be found by clicking the link below.
Advantages of Dryzone Cream damp-proof coursing
.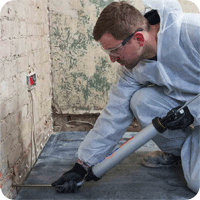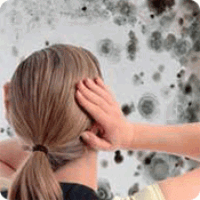 Installation of Damp Proofing
Dryzone damp-proofing cream is injected into 12mm holes (drilled and evenly spaced in the mortar course) by means of a simple applicator gun. After the Dryzone cream is installed it diffuses before curing to form a water-repellent resin and this ensures that any damp from below cannot rise up the wall.
Effective damp-proofing
As a property owner you want any supplier to use the best and most effective products available for treating and curing rising damp. Using Dryzone cream creates the most effective best waterproof membrame to halt rising damp in is's tracks. Dryzone products lessens moisture build up in the wall and blocks deposits of unsightly ground salts as well as reducing heat loss.
Dryzone has been specially developed to create the most effective damp-proof layer in walls of all types and has been subject to more tests under the most extreme conditions than any other rising damp treatment on the market.
Unfortunately, no two walls suffering from water problems are ever the same. The materials used have a major effect on how severe the damp problem is and this, in turn, influences the way the rising damp is treated and how effective it can be.